Dentist South Miami, FL - RomanoPerio & Associates, P.A.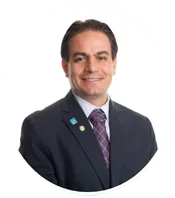 Rodrigo Romano, D.D.S., M.S., FICD
Dr. Rodrigo Romano is a Board Certified Periodontist who specializes in Periodontal Disease, Dental Implants, Bone Grafts, Gum Recession, Red Gums and Fully Guided Dental Implants. Very astute in the use of 3D CBCT Analysis.

Learn more about the doctor here...
RomanoPerio and Associates PA is a private dental specialty practice that provides patients with one-on-one comprehensive personalized and unique treatment.
Our knowlegable and experienced staff will make you feel at home by providing a relaxed and comfortable envirorment. We stay abreast of the latest in technological advances by regularly attending continuing education courses and seminars.
We offer our patients continued Periodontal "Gum" care, a full range of therapies to help keep your teeth healthy like Bone Grafts, Gum grafts and professional gum therapy
With our 3D Dental Scanner/ CBCT, we fully analyze and plan all our Dental Implants, available bone prior to have Orthodontics "Braces"thodo, facial trauma and Periodontal Disease
We will love to help you receive that smile and comfort you are searching for. Not having one or various teeth is not something pleasant, so call our office so we can get you smiling again.

If your gums are bleeding, tender or receding, we are here to help you get them back to health.
Why should you be treated by a Board Certified Specialist ? We do one treatment 1000, not 1000 treatments one time and most specialists continue their post-grad eduacation for a minimum of 3 additional years
Conscious Sedation Dentistry
We are here to help you relax during your appointments.
Concious Sedation Dentistry will help you relax during dental procedures. At RomanoPerio and Associates PA we use Nitrous-Oxyde, an inhaled form of a minimal sedation, otherwise known as "laughing gas". Nitrous-Oxide as a mild conscious sedative. The gas is administered with a mixture with oxygen and has a calming effect that helps you relax while maintaining full consciousness and the ability to talk to our staff throughout your visit, this way you are always in control. After your treatment is completed, the nitrous-oxide is turned off and 100 % oxygen is administered for 5min to help your lungs clear any remaining gas, so the effects wear off almost immediately.
Office Hours

| | |
| --- | --- |
| Monday: | 08:30 AM - 05:00 PM |
| Tuesday: | 08:30 AM - 05:00 PM |
| Wednesday: | 08:30 AM - 05:00 PM |
| Thursday: | 08:30 AM - 05:00 PM |
| Friday: | 08:30 AM - 02:00 PM |
| Saturday: | Closed |
| Sunday: | Closed |